Not to sound hyperbolic, but what you're about to learn here about Education Based Marketing has the potential to change the trajectory of your business…
When was the last time you watched a commercial that you didn't have to? It's been a while, right?
That's exactly why you need to flip your marketing to a non-"commercial" approach if you want to get the attention, reputation, and relationships with your market that create a long term sustainable business…
Ever since the birth of DVR, we've been skipping over commercials. And with streaming services, we don't even have to do that anymore.
We don't pick up calls from phone numbers we don't have saved because they are likely calling to sell us something.
We scroll by anything that looks like a produced video because it gives the subconscious signal that it's a commercial and is going to waste our time trying to sell us something we're not interested in.
As a society, we are now fully conditioned to ignore anything that is going to try and sell us something.
Which is why if you want to get attention from your market, you need to put out content that is not a commercial. 
You need to use Education Based Marketing instead. 
Education Based Marketing is a multifaceted threat that your business needs to implement:
It will help you rank higher on Google and get found by more people. 
It will get shown to more people in the social media feeds.
It will get people to Know, Like, and Trust you by educating and empowering them to make smarter decisions. 
You'll be adding equity into the relationship bank and building a strong reputation in your market. Putting you in a better position to Ask when it's time to sell
Your Word Of Mouth chances increase exponentially because your tribe will now have quality 'assets' to share with their friends and colleagues. Think about this- People are much more likely to share things that are helpful than things that are salesy. Obvious when you think about it, right?
Plus, when done well, Education Based Marketing will actually create demand for your Offer, resulting in you having to pitch and 'sell' much less.
Bottom line: Education Based Marketing increases your surface area for luck and stacks the deck in your favor for success
Quick Recap: Education Based Marketing assets will attract more people to you so you're not out hunting for clients 24/7, build quality relationships and strong reputation in the market, create more demand for your offers, and make selling easier. 
And actually being helpful just feels better too, doesn't it?
What Is Education Based Marketing?
Let's break down some definitions real quick: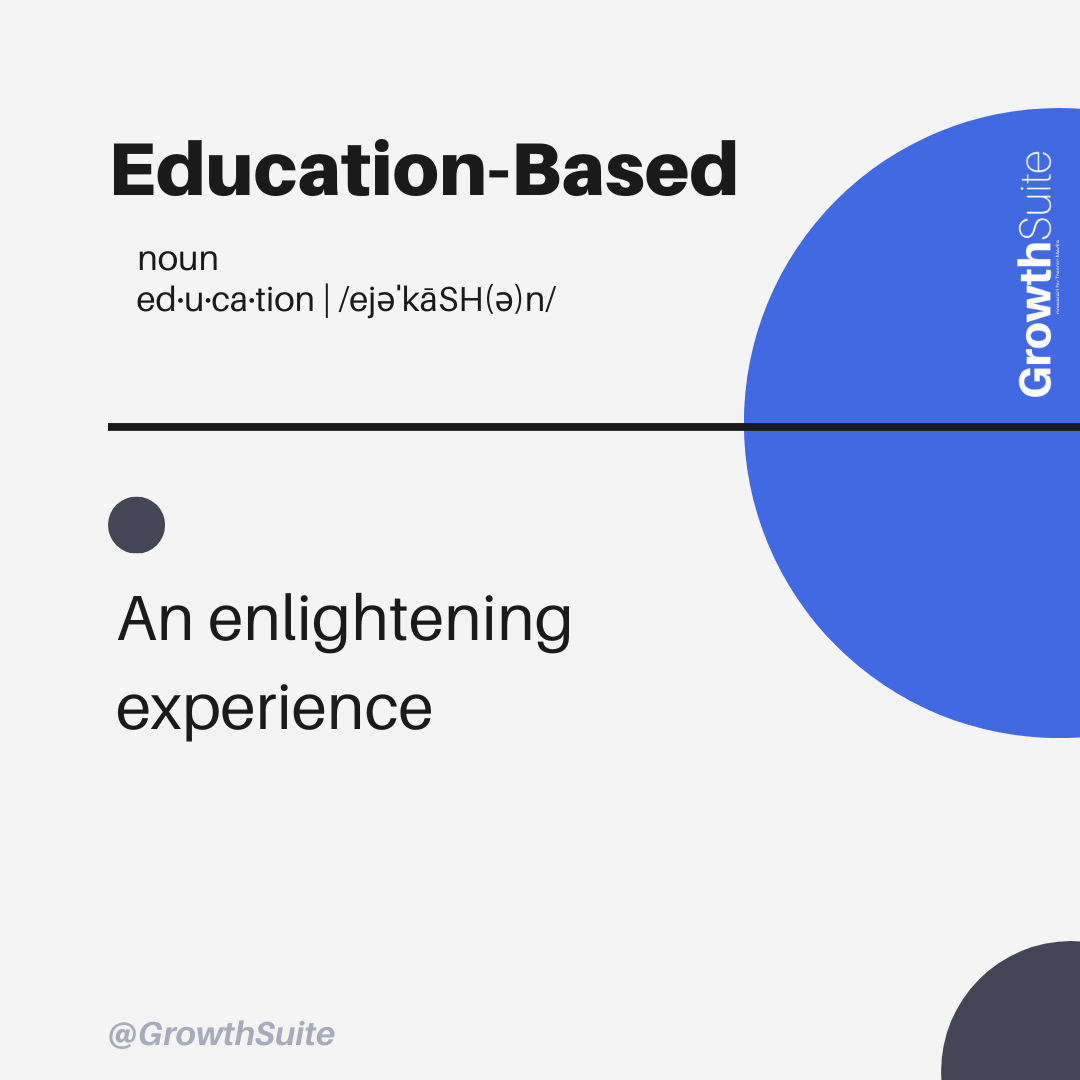 Ed·u·ca·tion | /ˌejəˈkāSH(ə)n/
The process of giving systematic instruction
An enlightening experience
You see, common mistakes people make when it comes to Education Based Marketing are that they focus on that first definition of 'instruction' – but that's not the most powerful approach to content marketing like this.
The more powerful approach is definition 2: An enlightening experience.
How To Make Education Based Marketing Work For You
Your Education Based Marketing does not need to, and should not, be a bunch of instructions or tutorials. 
Here are a few ways you can approach your strategy in a more diverse and powerful way:
Help them think better about their situation
Help them understand how to make decisions
Help them see a new perspective 
Help them avoid mistakes
Help them recognize misconceptions and common misbeliefs
Education Based Marketing Examples
Before we get into specific examples of Education Based Marketing, I like this overview from Chet Holmes' site. His book, The Ultimate Sales Machine, is an absolute must read for any entrepreneur, marketer, or sales person. 
"One of the best strategies for inbound and outbound marketing is "Education-Based Marketing." Just like the term states, it's the process of educating your prospects with valuable information setting yourself as an expert in your field and industry gaining your prospects trust and respect. If done correctly, education based marketing is a tool that can lead your prospect to the logical conclusion that they need to work with you without ever having to pitch your product."
Alright, let's check out some examples:
Dan Martell's SaaS Academy
Dan runs the SaaS Academy to help Software Founders reduce churn, increase revenue, and grow your SaaS with confidence.
He and his team run a beautifully executed Content Marketing Flywheel between their YouTube channel, Instagram account, and newsletter. 
Dan produces great, high value videos for the YouTube Channel where he provides a combo of strategies, tactics, and insights from his experience to help his target market on their journey – which then get written out as blog posts for his website, and clips are pulled out for his social media channels.
They run paid ads to grow their email list by giving away free resources like Rocket Demo Builder PDF that helps SaaS founders "deliver high-converting demos, slash sales cycles, and close up to TWICE as many deals by this time next week."
Then they send automated email follow ups to new Leads to segment and serve the new subscribers based on their current stage of business and highest priority need. If the new Lead doesn't take immediate action to book a call, they stay on the list to receive frequent education based marketing emails every week to keep SaaS academy top of mind, be positioned as the go-to industry leader, and check in once in a while to see if it's time to have a sales conversation.
Gusto, Payroll & HR Software
Ross Simmonds gives an in depth breakdown of how Gusto has used Content Excellence to rise up against their Big Box competitors in the HR/payroll industry who combine for a $266 Billion dollar market cap.
Just a few pieces of their strategy, according to Ross:
Creating Content That Aligns With Users Needs
Blog Posts Targeting Long Tail Search Terms
Engage Writers Who Create With Authority
Creating Tools That Solve Customers Problems
Creating A B2B Facebook Advertising Machine
Smart Tracking & Event Based Advertising
Dive into Ross's breakdown here – https://foundationinc.co/lab/gusto-content-excellence 
Vanessa Lau
Vanessa helps Creator CEOs build content machines, get more sales, and reach more people. 
She shares great educational content that she mixes up between tactical how-tos, new and outdated strategies to be aware of, storytelling about her experiences, and sharing insights of her own journey to help her target market on their journey.
This is how she has grown such a large and engaged audience on YouTube and Instagram.
Similar to Dan, her team runs a great content marketing flywheel turning her YouTube videos into clips and carousels on Instagram as well as Twitter threads and email newsletters.
Education Based Marketing Example of her Content Flywheel that repurposes a YouTube video into an Instagram post:
YouTube Video (here's the direct time stamp to what was clipped out as a soundbite for Instagram)
A soundbite from that YouTube video posted on Instagram:
Education Based Marketing Example of her Content Flywheel that repurposes a Twitter Thread into an Instagram carousel post:
Here's the original Twitter Thread:
4 years ago, I had:

0 followers

0 idea of how to grow a successful business

Today, I run a multi-million dollar company, and I've built a loyal audience of over 1 million Creators combined.

Here's how I did it.

— Vanessa Lau (@vanessalauco) January 24, 2023
Here's the repurposed Instagram Instagram carousel post:
Want To Use Education Based Marketing In Your Business?
Sign up below for quick insights, strategies, and tips to help you build an Unbeatable Brand using the power of Education Based Marketing.
Enter your email address below to get on the list with thousands of other entrepreneurs