What would your marketing strategy look like if it was easy?
Introducing The Minimum Launchable Funnel (MLF)
Simplify Your Marketing With A Clear, 4 Step Action Plan To Attract Customers In The Next 30 Days
Achieve marketing results faster and easier so you can grow your audience with confidence using the same simple, proven system we use in our businesses and for our clients.
Todd Has Been Featured By
Feeling Stuck In Your Marketing?
Is it that you're not exactly sure what to do?
Or is it overwhelm? Paralysis by analysis? Inaction from lack of direction?
Doing a million things, but none of them enough to get results?
Feel like you're on a hamster wheel, spinning like crazy but not getting anywhere?
We've all been there...
Ready for your marketing to take off?
Do you want an action plan for how your business is going to attract customers?

How about a clearly defined audience so that it's easy to communicate with them and advertise more effectively?

What about a way to generate leads consistently, at scale? No cold calling or "knocking on doors" one at a time?

In 2020, we really refined our approach to be able to launch and optimize campaigns that reach the perfect audience and get them signing up for our offers with a budget of $10-20 a day.

That's basically the cost of having a single coffee meeting with one person. But you can reach thousands of people instead. And with this framework, not just reach them, but get them asking you for more.

If you're interested in getting an action plan in place so you can grow your business more effectively, the Minimum Launchable Funnel virtual workshop is for you.

It's extremely focused on the few but high impact elements you need to launch your business online without breaking the bank or spending 6 months in some kind of 'building' phase.
Enroll In The Minimum Launchable Funnel Workshop Today
Sign up now and get instant access to start simplifying and launching your first or next marketing funnel!
Introducing The Minimum Launchable Funnel Virtual Workshop
Get hyper focused on the key elements that will make an impact so you don't waste time, money, or headaches on things that don't help move you forward.
Learn exactly how you can more easily grow your business by building your list and audience the right way.
Discover the secret Irresistible Lead Magnet formula for getting your ideal clients signing up to learn more from you.
Know exactly what messaging to use and how to promote your new offer so that it gets in front of the right people at the right time and it compels them to take action.
Here's What You'll Get When You Sign Up
A Proven Method For Finally Simplifying Your Marketing And Growing Your Audience
Without Wasting Time Or Money Being Busy With Things That Don't Work
Immediate access to the virtual workshop so you can...
Simplify Your Marketing
When you finish the MLF Workshop, you're marketing will finally be simple and feel easy!
You'll know exactly who to target, what to say, and what to offer them so that clients actually come to you instead of you chasing after clients.
Grow Your Audience, List, and Leads
In today's world, relationships matter. This workshop will help you attract people so that you can build a relationship with them.
No more wondering where your next client will come from, because they will come from the audience that you're building!
Stop Losing Time, Money, And frustration
Most of the "marketing" I see businesses running are just a bunch of busy work and activity to "get us out there."
But just "getting out there" isn't enough for me, and it shouldn't be for you either.
When you do marketing, you want results and you want them fast so that you can make adjustments and navigate to success in a straight line.
With the Minimum Launchable Funnel, you'll have a simple, straight forward marketing campaign up and running within 2 weeks. Then you'll be able to look at the numbers a week later and know exactly what's working, what's not, and why - so that you can make simple adjustments and improve your results to start getting clients.
All of that before a typical marketing campaign would even have the first draft of an idea done.
Meet The Founder!
About Todd Giannattasio

Todd Giannattasio is a veteran marketing expert who has been featured by Entrepreneur, Forbes, and Huffington Post for his proven systems to grow brands, generate leads, and increase sales in our constantly evolving, digital world. His combination of fundamental principles and modern marketing strategies are what create a force multiplier for businesses.

He is certified in sales and marketing from DigitalMarketer.com, Hubspot, and the Jordan Belfort Straight Line Sales and Persuasion System. He has been a featured speaker at the Propelify Innovation Festival, presenting to a combined audience of 24,000 attendees.

Todd has been working in digital communications and marketing since 2003. Over that time, he's worked with some of the biggest companies in the world from Universal Records to BASF, and with growing startups and small businesses.
What Do Other Growth Suite Members Say?
I appreciate how concise The Growth Suite resources are and take you from A to B in as few steps as possible. The Minimal Launchable Funnel course is great.
Leadership And Business Coach
If you are looking for how to do marketing and own the process for your business, then this is the place to be.
After taking a lot of time to decide to join, I am now on the right track to improving my business.
I wish I would have jumped in the pool earlier.

Small Business Consultant
Every time I get distracted or overwhelmed, I stop myself and ask "what does Todd say about this?" He simplifies every big sorta theory with supporting practical tools to get it done.
I highly recommend this for someone who is new to marketing and figuring out the steps to take!
If you want to get where you're trying to go faster, then you should join.
Enroll In The Minimum Launchable Funnel Workshop Today
Sign up now and get instant access to start simplifying and launching your first or next marketing funnel!
Workshop
Training Modules
Here's What's Inside Your Workshop
Module 1: Dial In Your Customer Targeting With The Best Buyer Builder
"Customer Avatars" or "Buyer Personas" are important, but they're only as good as how you choose them. If you make up your targets arbitrarily or randomly because they sound good, you're off the track to success before you even start. That's why we do the pre-work to find the BEST audience you should be targeting before you create any avatars or personas. This ensures that the rest of your marketing from messaging to offer to promotion are all set up for you to win!

When you dial in with the Best Buyer Builder, you'll have a clear picture of exactly who the best target audience is for your business right now and why. This means when you craft your offer, come up with your messaging, and promote your business - you are putting your brand on the proper path to client attraction and not just throwing spaghetti at the wall hoping something sticks.
Module 2: Craft Your Irresistible Offer To Build Your Permission-Based Audience And Grow Your List
We are trained as kids to not take things from strangers, so why do we try to sell things to strangers when we get into business as adults? It makes more sense to create a relationship first, doesn't it?
No one buys anything of significance from a stranger (or business/brand they've never heard of). So if your goal is to get more customers, then your job is actually not to promote your product or service. Sounds like a contradiction at first, doesn't it? But your job is actually to build an audience that you can then promote your product or services to. That's when sales come easier and you actually end up with better, more valuable clients.
So the key to your long term success is to build an audience that Knows, Likes, and Trusts you. Once you've established that position, you have the equity in the relationship bank to now offer them a solution to their problem and they're not just open to hearing about it, they are now predisposed to want to buy from you because you've built a relationship first.
That's why we always launch with an Irresistible Lead Magnet to grow our permission-based audience and email list, so that we are giving value first in the relationship and earning the opportunity to follow up and communicate with them to become a client when they are ready.
How do you build your email list and permission-based audience? With an Irresistible Lead Magnet offer. This is also known in some online circles as a "Freebie" and it's basically a digital file like a PDF, video, or some kind of template that helps your audience in the early stages of understanding their problem more clearly and ways to solve it.
In this module, you'll craft your Irresistible Lead Magnet to build your permission-based audience, so that you are setting yourself up for quick wins and long term success, and creating a compounding asset for your business. Your Irresistible Lead Magnet will be the force behind attracting your customers every day.
Module 3: Write Your High Converting, Simple Sign Up Page
Once you have your Irresistible Lead Magnet Offer, you need a place to send people so they can sign up for it. This is your Simple Sign Up Page aka Landing Page.

Most people overcomplicate their landing pages when the best performance comes from just not getting in your own way.

In this module, you'll get the simple frameworks and copywriting formulas that we use to create some of the best performing landing pages in the industry.

The best part is that you don't need to be a designer or seasoned wordsmith to do it. You just need to know the simple angles to touch on for your audience to want what you're offering.

With these plug, polish, and play instructions, you'll have your own powerful landing page in less than an hour!
Module 4: Build A Compelling Message That Resonates With Your Audience
If you want your audience to take action, you need to compel them to do it. In this module, you'll learn the simple messaging frameworks we use so you can plug, polish, and publish your work from the previous modules into a message that gets the attention of your target audience and hooks them in to want what you have for them.

This is the bridge between what someone is doing right now and actually signing up for your offer.
Module 5: Promote Your Offer In Front Of The Right People With Message Distribution Using Facebook Ads, Organic Social Media Posts, and Your Existing Contact List
You have a great message and a great offer, but if a tree falls in the woods does anyone hear it?

The promotion stage is when you'll test out your messaging and offer with microcampaigns so you can validate if you're on the right track before you spend a ton of money or resources on large scale campaigns.

In this module, you'll learn the best approach for your specific situation on how to test promote your direction. Whether you already have a small email list, a solid social media network, or are absolutely starting from scratch, this module will get your car on the track and driving in the race.

At the end of this exercise, you'll have your Irresistible Offer promoted to your best ideal customers and start seeing the results of your action!
Module 6: Navigate Your Way To Success With The Simple Framework For Measuring And Improving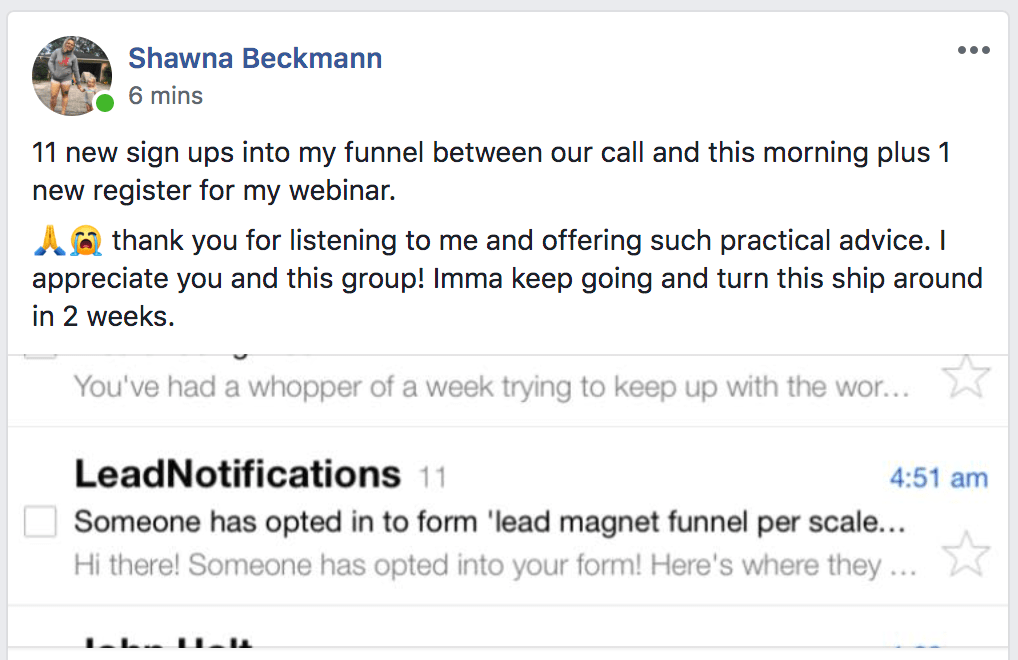 Hate the idea of "analytics" and diving into numbers?
Forget the dreadful statistics report filled with confusing charts and graphs, and learn the 4 top numbers to look at and what they mean.
The power of the Minimum Launchable Funnel is in its simplicity, which becomes most clear in this stage of reviewing your results and increasing your performance.
When you only have 4 steps in your marketing system, you can easily identify what's working and what's not, and then know exactly what to change to improve your results.
Like Shawna, who was having an issue with people completing her funnel. We took a quick look and she made a minor tweak. By the next morning, she already saw the impact of her work.
Because when you keep things simple, there is less to worry about and it takes much less time to work on improving.
At the end of this module, you'll know exactly how to look over your marketing numbers quickly and how to make adjustments that improve your results!
Never Wonder Where Your Next Customer Is Coming From Again
How To Get Quick Wins + Long Term Success
Your business can't survive without customers coming in, which takes time. But you also can't wait forever or you're going to run out of gas before you get to the next gas station.
That's why the Minimum Launchable Funnel method focuses on getting you quick wins. By building your email list you'll be able to identify interested buyers right away. And also build your long term asset aka your audience. And in that audience are the people you will be able to nurture and become your future clients and customers.
Bonus
Enroll Now
To Receive

Your MLF Bonuses!
These bonuses will help you get your simple marketing system up and running faster and more confidently!
You're not alone.
You don't have to do it from scratch.
And you definitely don't have to let setting up Facebook Ads be a problem that holds you back!
Your MLF Workshop Bonuses
Bonus 01:
Exclusive Community
Access to the private Members Only Growth Suite group to post your questions, learn and connect with other members on the same journey, and get quick insights on what new marketing tools and updates mean for your business.
Bonus 02:
Resource Library Membership
Downloadable workbooks, process guides, cheat sheets, and framework blueprints to help you plan and execute faster.
Bonus 03:
Facebook Ads For Beginners
Learn the basics of setting up and launching your first or next Facebook Campaign the right way.
Investing In Your Growth
You could spend the time and money to research, interview, and hire an agency for $5,000 - $20,000.

You could hire a random freelancer for a little less than that.

In both cases, you're going to have to spend a lot of time getting them trained on your business, and hopefully they take the time and have a process to help you understand everything that's going on so you don't have them making decisions in the dark for your business.

You could try to figure it out yourself doing a bunch of Googling and YouTube watching, which will take A LOT of time. Not to mention you have to figure out what order to actually learn and try, who is actually teaching you the right thing, and the right thing for your business. And most likely, you don't know what you don't know - so how do you know you're looking up and learning the right things?

Let's save you time, money, and frustration and just make it simple for you.
How Much Does The M.L.F. Workshop Cost?
I've invested tens of thousands of dollars in learning all this stuff...and that doesn't include the tens of thousands of hours in the trenches or millions in marketing budgets I've spent over the last decade plus.
I've packaged all of that knowledge and experience from the real world into a simple and easy to follow, step by step process. That way, you don't have to spend all that same time and money...or blood, sweat, and tears...in launching this growth system for your own business.
And now you can get all of that for yourself for just $1,999!
Pay-in-full & Save
Simple, fast and effective flexible move
100% Money back-Guarantee
If you go through the workshop and complete the exercises, and don't have your campaign launched within 90 days, you can request a full refund.
Enroll In The Minimum Launchable Funnel Workshop Today
Sign up now and get instant access to start simplifying and launching your first or next marketing funnel!
My Mission: End Random Acts Of Marketing
If you're ready to finally get rid of all the noise and distractions that are holding you back from the success that you deserve, and the impact that you should be making, this program is designed for you.
Get focused on the high impact pieces you need to grow your business and start attracting more customers today.
I spent over a decade thrashing through the weeds to bring you the map and path to get you results faster and easier.
Join us now on the journey to greater impact with this first step of building your Minimum Launchable Funnel and growing your audience.
- Todd
Enroll In The Minimum Launchable Funnel Workshop Today
Sign up now and get instant access to start simplifying and launching your first or next marketing funnel!